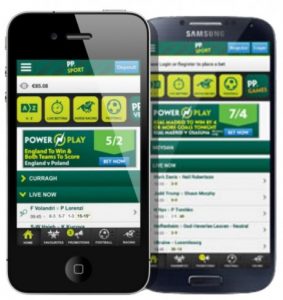 Since the 1980s, Paddy Power has built itself to become one of Europe's largest Sports Betting and online gambling services. The company originally set up shop in Ireland as a 'brick and mortar' sports betting outfit, and now offers comprehensive online services, and even provides mobile apps for customers all over Europe. Today in Romania you could use the smartphone and tablet apps to bet on picks for your favorite sports, and even try your hand at the world's leading casino games.
Paddy Power in Your Pocket
Online gambling made gambling accessible for those who may have never considered walking in to a bookie or casino before. Online gambling is well established in Europe now, and the next big push is in to the mobile market. Being able to bet from your home is one thing, but being able to bet from your smartphone or internet connected tablet means that you can now take your sports betting and casino games anywhere that you go.
Paddy Power offers both iPhone and Android apps. If you sign up on their website first, you will even be able to take advantage of their current sign up bonus. Promotions often change, but Paddy Power usually offers something close to a €10 Euro Bonus on top of your first deposit of the same value.
Using the app is simple, with a logical layout, bold and clear fonts, easy navigation buttons, and all of the information that you need on a single screen. Just choose your sports and you'll start seeing all of the bets available to you. If you're familiar with any modern smartphone or tablet app then you will feel at home with Paddy Power's software.

Sports Bets Available
Paddy Power is the largest bookmaker in Europe, and they do business to the tune of about €700,000,000 every year. When you see the range of sports that they offer, you will understand why the company is so popular.
You can bet on games like Football, Volleyball, Golf, Rugby, and even unexpected options like Tennis and Handball. There's also Boxing, Motorsports like Formula one and World Rally, and even Track & Field events from around the world. If the sport exists, there's a good chance that you can bet on it with the Paddy Power mobile app.
Because Paddy Power is so large, they're able to offer competitive odds for punters. You can usually find betting opportunities on Paddy Power that are more lucrative than those offered by other bookmakers.
Getting Help
With a company the size of Paddy Power, some might expect to become just another number when it comes to customer support. However, exactly the opposite is true, and if you need help with the service you'll be able to talk to a real person over the phone, or via email and chat. There's an English speaking hotline, as well as a World hotline for speakers of other languages. Even in Romania you'll be able to receive personal and prompt support from Paddy Power.
Banking with Paddy Power
It's easy to deposit and withdraw funds from a Paddy Power account. If you have a major credit card like Visa or MasterCard you can handle your financials through these, or you can even use e-wallet services like Neteller and Paypal, and there's even an option for direct wire transfers.
Bet from Anywhere
Paddy Power doesn't just offer sports betting. With your membership you'll also be able to play many of the leading casino table games and slot machines. Not all games work from the mobile app, but you can always log in from a PC to enjoy a break from sports betting.
There's not much that can be said against Paddy Power and their mobile apps for iOS and Android. They provide a feature rich experience that is almost on par with their full website, and even with a few concessions the fact that you can bet from anywhere makes Paddy Power a good choice for your mobile sports betting needs.