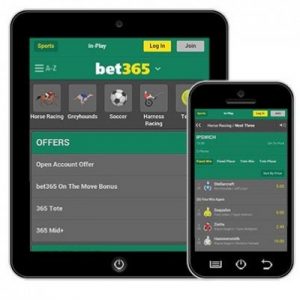 Bet365 is a UK based company that operates under a license from the Gibraltar Gambling Commissioner, and is one of the biggest online gambling companies in existence. You can access BET365 online via a computer, or you can use the company's app to access the gambling options using your smartphone. The company provides an app that runs on Android, Blackberry and Windows phones, as well as on the iPhone and iPad.
The app lets you place bets in advance of any sporting event, and also has in-play features. You can combine the latter with live streaming of various events. Be aware that the term "live streaming" is a little misleading, since there is always a slight time delay before you get the pictures. This is particularly important to keep in mind if you are making in-play bets.
The Bet365 app is thoughtfully designed, and is very easy to use once you get used to it. Since gamblers will be keen to get in-play bets placed as quickly as possible, the app is built around making in-play bets really easy to place.
The Bet365 app also gives users access to a wide variety of casino games. You can opt to play standard games like roulette, poker, blackjack and baccarat, as well as a big selection of slots games. You can even play bingo and Bet365's scratch card game.

Signing up
You can set up an account with Bet365 from your computer, or you can sign up using the app. You will probably find it easier to use a computer, since you will have to supply personal and card details, so there is quite a bit of typing involved. When it comes to updating your account, you are better off using your computer also. While you can access some of your account information via the mobile app, you need to login from a computer to get full access to your details.
Bet365 will examine your IP address, and will not let you sign up if the app determines you are in a country where use of the Bet365 site is prohibited.
Support
If you need help from Bet365, there is a dedicated 24/7 phone line that lets you call them directly. The company provides a Live Chat facility. You can also find a fax number and the postal address on the Bet365 contact page. Bet365 also provides a call back service.
Deposits and withdrawals
Bet365 provides you with a whole range of deposit and withdrawal facilities. You can use credit and debit cards, or services like Paypal and many others. Deposits are commission free, and withdrawals are free in most cases. There are minimum and maximum deposit and withdrawal levels that vary according to the method used. When you use a card, the card name must be the same as the name with which you registered.
Bonuses
Like most online gambling sites, Bet365 offers signup bonuses. These change from time to time, so check out their website before you sign up for the best offers. The company pledges to offer the best prices on horse racing events that are broadcast live by the UK TV channel, Channel 4.
When you place a bet on a horse, Bet365 will pay out at the higher odds if the starting price rises so that it is higher than the price at which you made your bet. The company also has a daily featured race each day. If you back a horse in that race that wins at 4/1 or more, you get a free bet to the value of your stake that you can place on the next featured race.
With its combination of easy-to-use features, in-play options and generous bonuses, Bet365 is definitely worth considering.