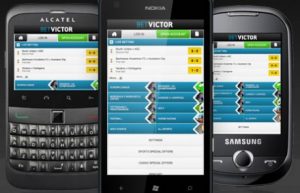 BetVictor is the online betting platform set up by one of the UK's leading bookmaker firms, Victor Chandler. The Chandlers have been involved in bookmaking since 1946, so the website comes from a long pedigree, although the family is no longer involved with the BetVictor website.
You can access the BetVictor site from your computer or from your mobile device using the company's app. In recognition of the huge growth in demand foo mobile betting, BetVictor provides lots of special offers that are available only to mobile users, and these are well worth checking out. The app is available for all the standard mobile types including iPad, iPhone, Android and Windows devices.
Installation
The app could not be easier to install. All you need to do is download it and let it run. The app is able to automatically detect what type of mobile device or computer you are using, and it installs accordingly with little or no input required from you.

Ease of use
A key design concept for the BetVictor app is to reduce clutter. This has resulted in a very simple interface where you can easily find what you want. The app cannot be faulted for user friendliness. Live betting options occupy the upper part of the screen, and you select one of these tabs to place a bet on any of the six major sports supported from the main screen.
The upper part of the screen shows featured bets, while the lower part shows offers and features in other sports and for casino games. At the bottom of the screen, there is a range of quick access option buttons. From here, you can select from numerous different sports to see the betting options.
In-play betting
There are numerous options for in-play betting with the BetVictor app. You can bet on horse races even after the races have begun, and you can also bet on countless other sporting events while the events are still in play.
All the important in-play statistics, such as the current score, are displayed. You should always keep in mind however, that there is a slight delay before in-play stats are updated, so you are not looking at real time details.
The app also provides live streaming of horse racing from the UK and Ireland. You need to be registered and have placed a bet before you can access the streaming features. As with in-play statistics, there is a time delay applied to the streaming, so it is not truly live. Keep that in mind if you are making in-play bets.
Registration
BetVictor will not give you access to the website if you live in an area where online gambling is prohibited. BetVictor determines your location based on your IP address. This means that even if you have an account set up in one jurisdiction, you may not be able to use it when you are in another jurisdiction.
The registration process is easy, but you will have to type in your details, so it is better to register from a computer to facilitate entering these. You will need to deposit some money to your account before you can start making bets.
Specials
BetVictor provides a whole range of special offers and bonuses that are constantly updated. These range from cash bonuses to free bets to money back offers. If you like to get the most from your gambling, these specials can be very attractive.
Conclusion
BetVictor is a long-established business, so punters can rest assured that they are dealing with a reputable company. It is involved in a highly competitive market, and tries to win new custom by offering attractive bonuses and special offers. Its user interface is excellent, and mobile users will find it very easy to navigate to the sport they want, and to place the bets they want.