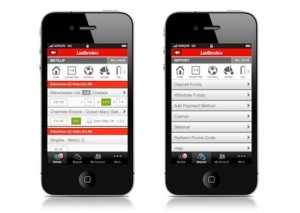 Ladbrokes was founded in the UK at the turn of the 20th century, and the company grew to be one of the biggest bookmaking firms in Britain. It also established a presence in other countries, and today provides many betting opportunities for modern punters, including its mobile betting platform.
Its mobile app has proved very popular, and the company's biggest increase in revenue in recent years has been from online gaming. You can still visit Ladbrokes outlets in many towns and cities throughout the UK, and its online platform gives access to gamblers from other countries.
You can access Ladbrokes online from your computer as well as from a range of mobile devices. The Ladbrokes app can run on Android and Windows devices, as well as the iPhone and iPad.

The interface
Because online gaming sites like Ladbrokes offer the opportunity to bet on so many different sports, they face particular challenges in providing a mobile interface that does not appear overly cluttered. Ladbrokes has succeeded quite well in doing this. It was one of the first companies to introduce an app to make mobile betting as easy as possible, and this pedigree shows in the quality of the app.
The most popular betting platforms are listed across the top of the screen. Just tap the relevant icon to select the sport you want. If your sport is not listed here, there is an access icon further down the screen that lets you find what you want. Almost every sport you can think of is covered, and you can bet on sporting events from many different countries around the globe.
Variety of options
You can select from countless sports and place bets in advance of the event. Ladbrokes also provide live streaming of some sports, including UK horse racing. You can also make in-play bets on most sports using your mobile connection. One of the things that distinguishes Ladbrokes from some other mobile platforms is that you are not confined to single option bets. The system lets you place bets on quite complicated accumulators, or do multiple bets like Yankees.
Apart from betting on sports events, users of Ladbrokes online and the mobile app can have fun playing a whole range of casino games. They've got everything from baccarat to blackjack to roulette. You can even play a whole range of slots games. There is also a dedicated poker room available where your can play against real people.
Odds available
Odds are offered in real time, so you can be sure you are getting the best odds when you place your bets. If you compare Ladbrokes odds with those from other bookmakers, Ladbrokes frequently offer the best odds. However, it is not often going to be worthwhile shopping around, as the differences in the odds offered by different companies are usually very, very small. However, if you are placing substantial bets, small differences can be important, so you might want to check what is on offer from a variety of sites.
Another thing that differentiates Ladbrokes from many other gaming sites is that they do not stick rigidly to the stated maximums. All accounts have a maximum bet status that is normally set by default. If you want to place bigger bets, you can contact the company for authorisation to do so. If this is granted, you will be able to exceed the normal maximums.
Conclusion
Ladbrokes has done an excellent job in making its mobile app easy to use. The navigation is carefully thought out, so you can quickly get to the sport or gaming option you want. Once there, you will find it really easy to place your bet. Ladbrokes odds are usually among the best available, making this an excellent platform for online gaming.